The five SaaS tools our SaaS startup can't live without (+ full list)
There's a small bubble in startups where we all consume each other's products. SaaS startups tend to be extreme about it, using tens of other SaaS products to run the company. Factorial is no exception.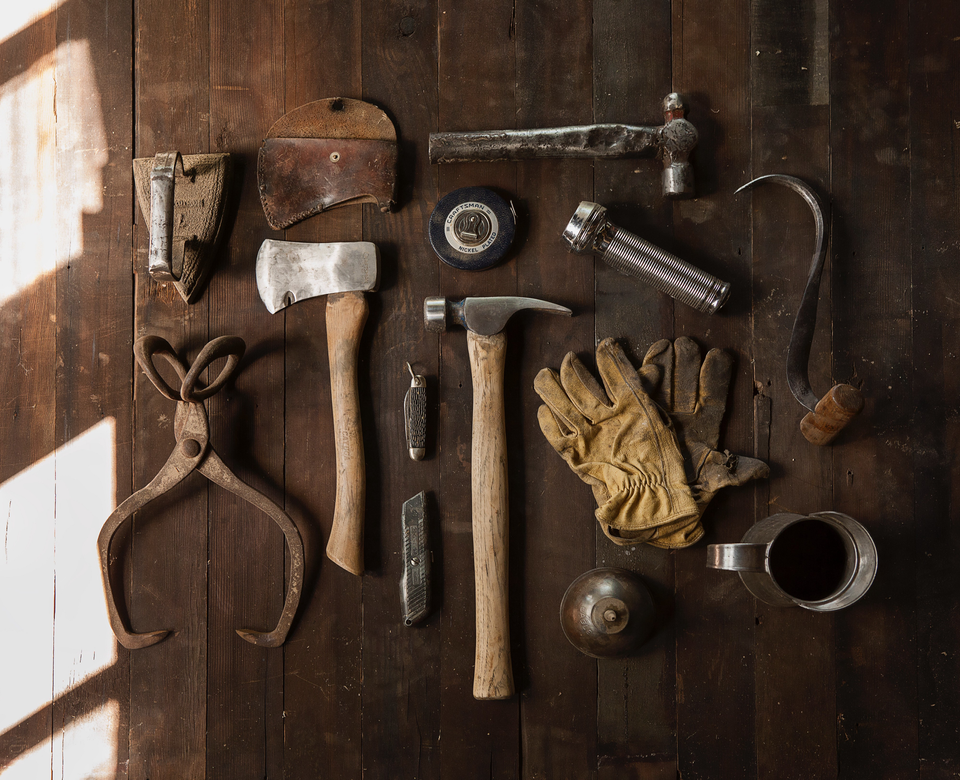 There's a small bubble in startups where we all consume each other's products. SaaS startups tend to be extreme about it, using tens of other SaaS products to run the company. Factorial is no exception.
We started the company with a handful of essential tools and platforms to launch our first version of the product, and have progressively been adding products to the point where it's hard to list them. Today we'll take a quick look at the five tools we can't live without, and leave a full list at the end.
1. Intercom
Sales, customer support, marketing and product
Intercom is a fantastic Swiss-army knife for a young startup. Everybody in our company has access to it, and we all use it for different purposes: sending on-boarding automated in-app messages, targeted e-mail campaigns, one-off announcements, customer support and product feedback.
Installing intercom takes seconds, especially if you do it using Segment.com as we did. The best part of Intercom is that you go very quickly from nothing to a performing drip campaign, direct customer contact and it even provides a very basic sort of CRM.
Here you can see one of our campaigns for Spanish admins via in-app message. Intercom even allows us to A/B Test our messages and compare their performance.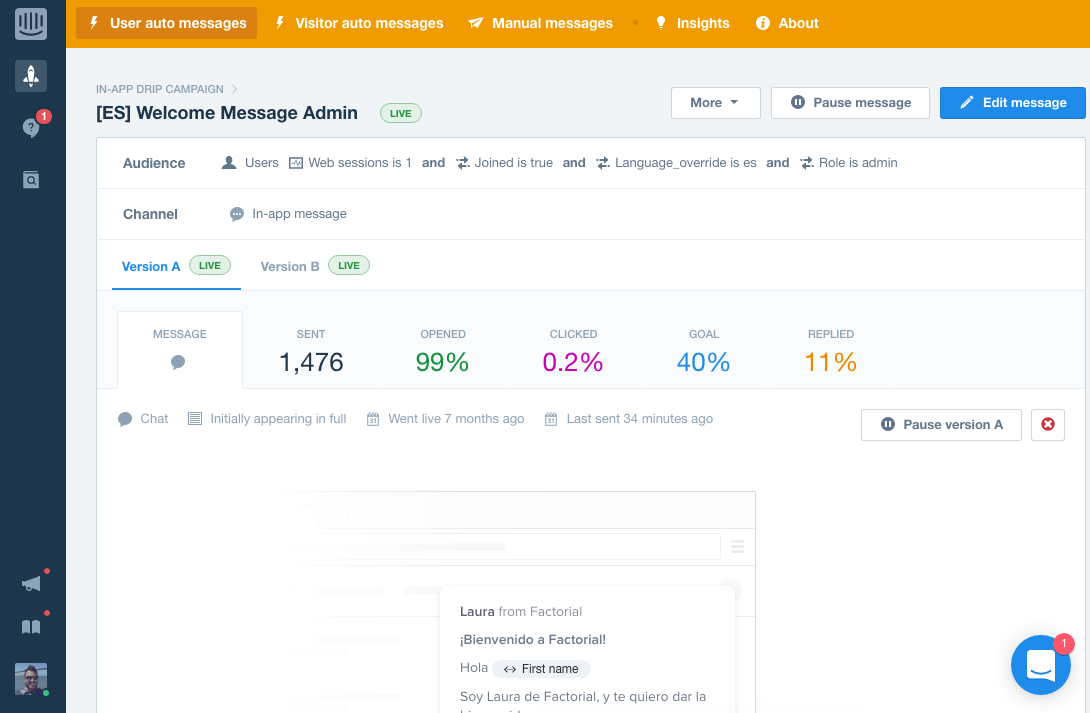 2. Chartio
Product and business
One of the things we have to do very often at Factorial is looking for answers:
Are companies inviting their employees with our new import feature?
How well do we retain users week after week?
What's our most profitable marketing channel?
Almost always we find that there's no single place to find a good answer to these questions. Google Analytics, Salesforce, Intercom or our database might have parts of the answer, but that's not enough, we need the complete picture. Not only that, we like to look at the answer rather than read it, so a fancy chart goes a long way when trying to understand patterns.
Pau and I were used to Chartio from our time at Redbooth, where we were also heavy users. Before setting up Chartio at Factorial, we tried a couple of their competitors, but we ended up with Chartio and are very happy with it. What we do with it is very simple:
We connect all of our "data sources" to it (example: a MySQL database, a PostgreSQL warehouse, Google Analytics, manually uploaded CSVs with our marketing plan, etc.)
We query those data sources using SQL and chart the results in different dashboards.
Here's a silly example our marketing team is working on: they are "mining" some of our time off data to find correlations and craft some witty blog posts for the summer season: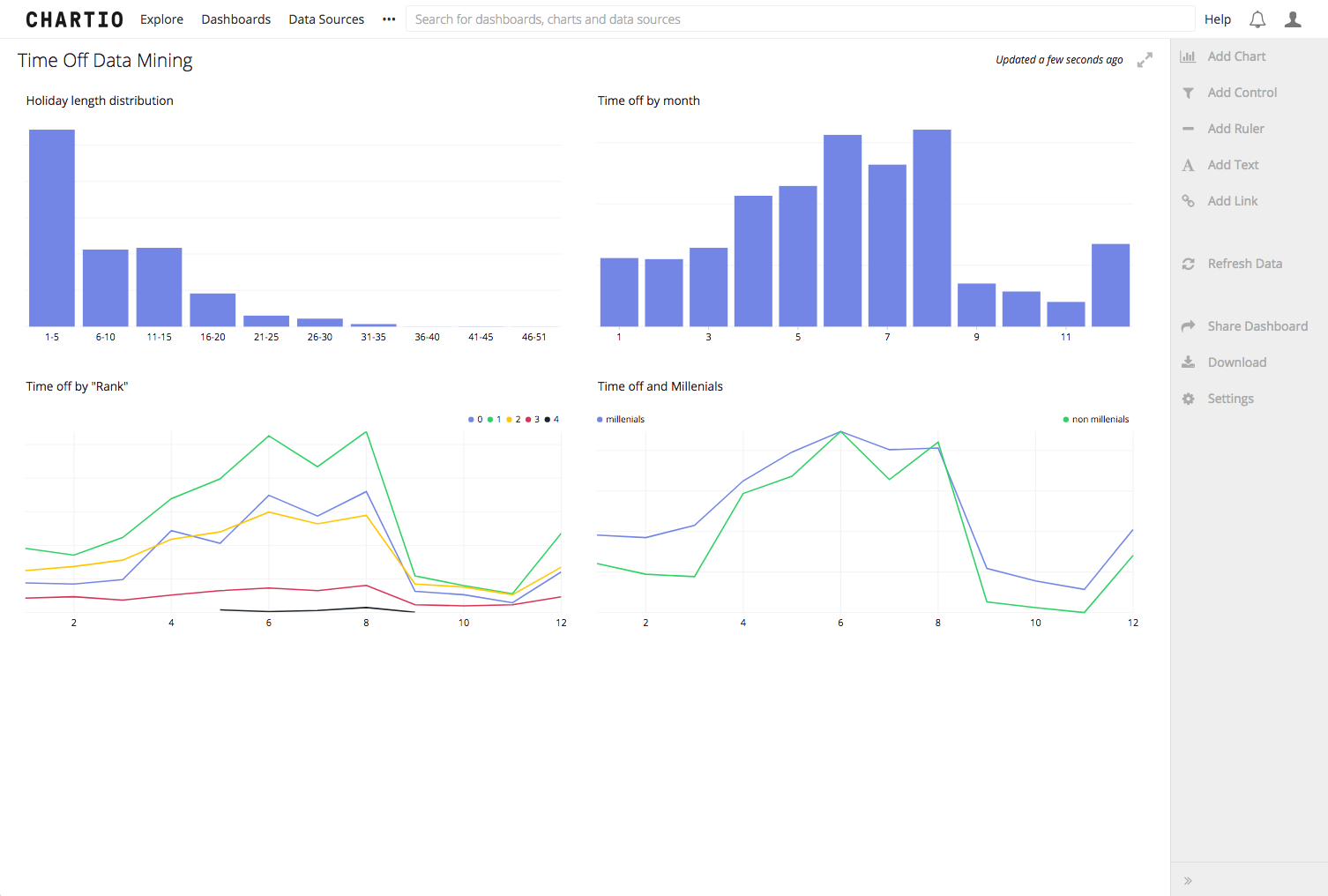 3. Github
Development
Github is a fascinating case because it's both the obvious choice to get started (with a side-project, a small consulting gig, or a brand new startup) and it'll continue unchallenged until the company is thousands of employees and has billions in revenue. Github was probably the first thing ever that we set up to start hacking together the first version of Factorial.
We use it daily — hourly actually — to push new code, review each other's improvements and centralize the different quality tools that we connect to it (such as CircleCI for continuous integration).
There's really not much to say about Github since it does its job phenomenally well and no one else comes even close. The only alternative I can think of is going deep into the Atlassian world and using their well-integrated suite.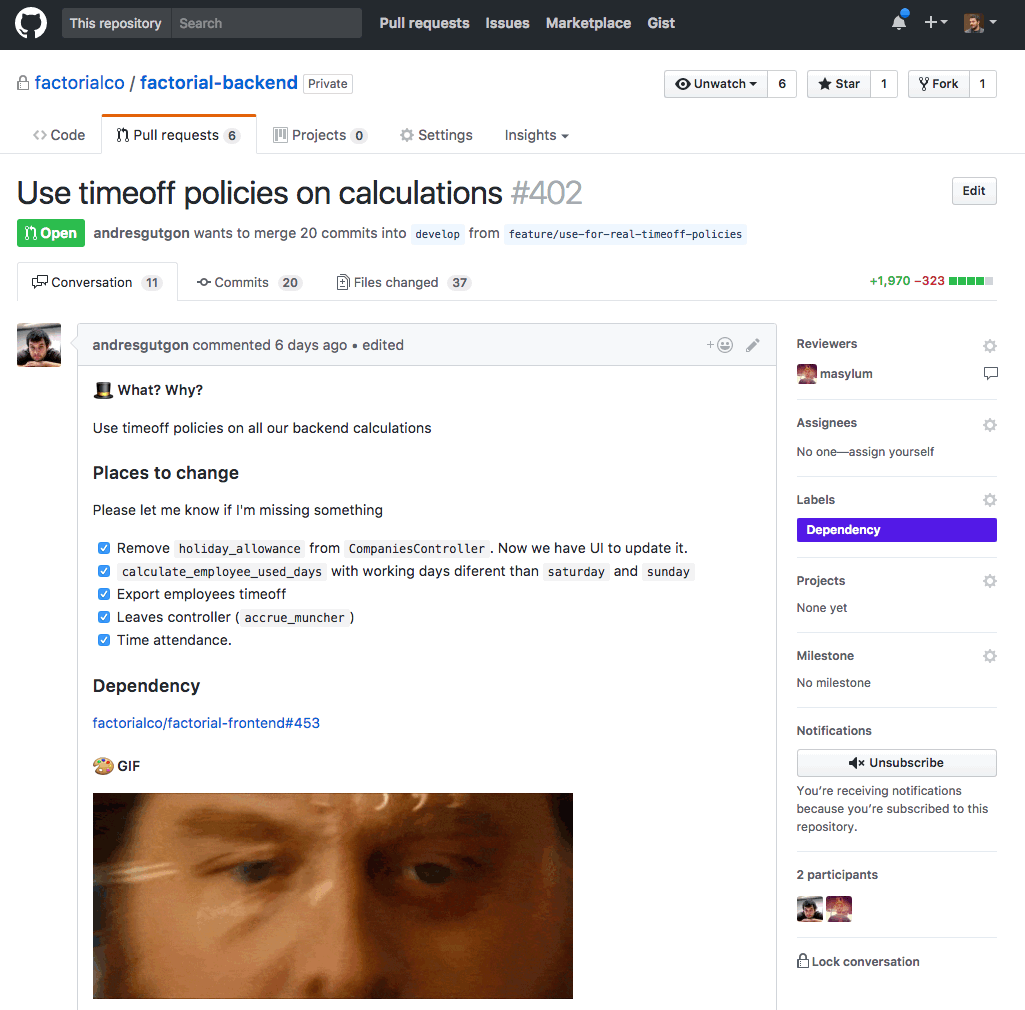 4. Salesforce
Sales
Now, this is a controversial one. I've been thinking about how we should track our sales activity and report on sales performance since we started the company. There are a lot of options in the market, but we knew that once we got to a certain point, we would have to move to Salesforce.
So the "obvious" choice to get started was implementing a simple CRM such as Pipedrive, HubspotCRM or close.io. That's what most small startups seem to be doing nowadays (I socialized this topic a lot with other founders, CEOs and Sales Leaders and got a pretty consistent message). The challenge I saw with this was that implementing a CRM and integrating it is a big investment, not something you want to do for just 6–12 months.
We knew that as soon as we grew to a certain point, we would have to change to a CRM Operating System (aka Salesforce), thus re-implementing it, re-integrating it and migrating all our current data and sales activities.
So we went "all-in" and tried to get the most out of a vanilla Salesforce installation, using as much as we could only built-in objects and features, leaving hardcore customization until our business processes were mature enough.
We're still in the process of getting the most out of it, so I'll dedicate an entire blog post to how Salesforce can help an early stage startup :)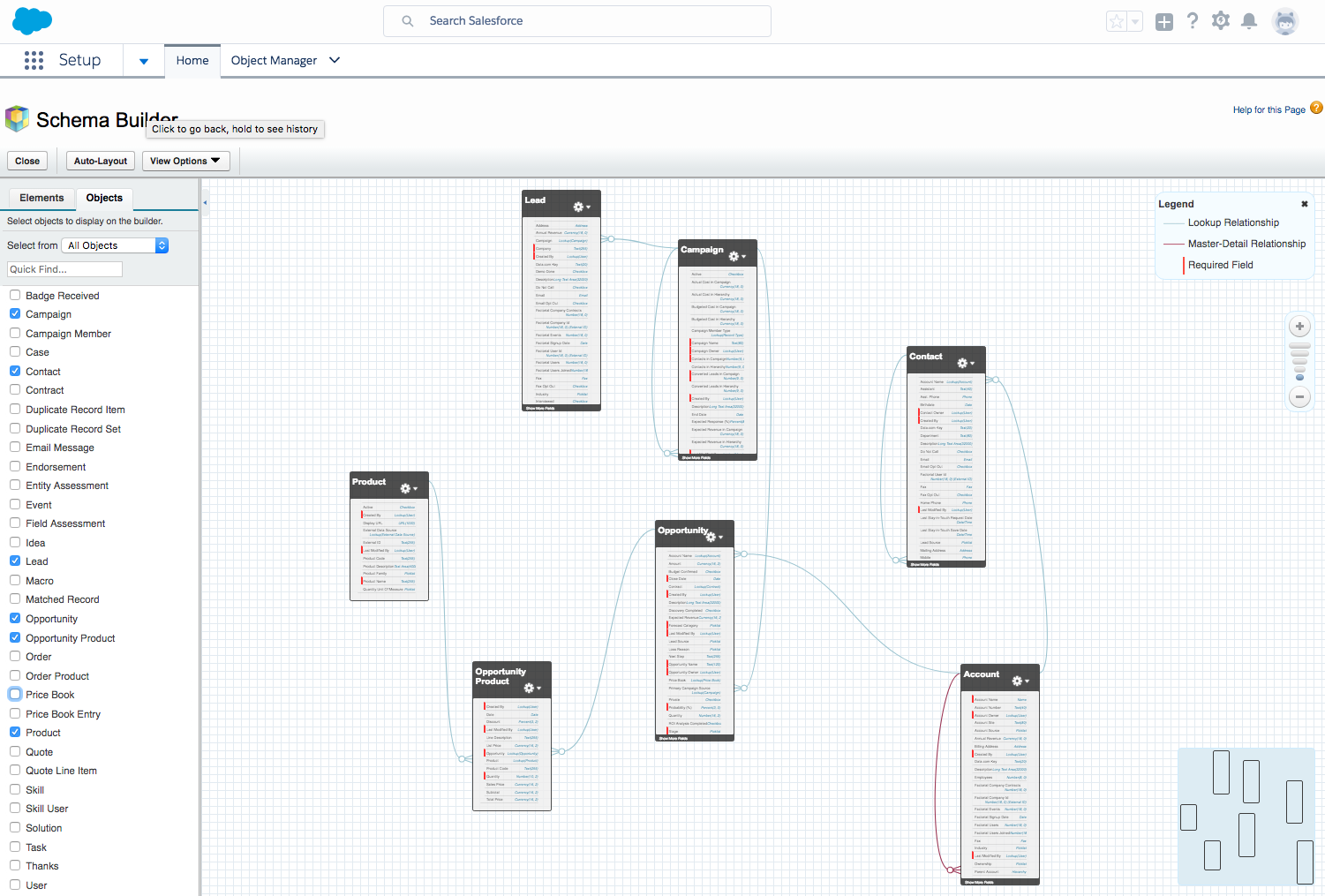 5. Slack + Redbooth
Productivity
All previous tools are about specific parts of our business, but we can't get anything done if we don't have a system of record for what needs to be done and a platform for quick asynchronous conversations.
We use Slack for following key notifications (from Github, Segment.com, etc.) and for quick and casual conversations. One thing that's not ideal, and we're fighting against are long discussions and misunderstandings.
Our rule is: Stand up and talk — I'm tempted to build a bot that posts this after two people go back-and-forth for 20 messages.
The other part is Redbooth, my favorite Project Management software, of course :) We have three major flows around Redbooth:
Teams plan their weeks or months with a Kanban view and work hard moving tasks to the right ✅
Teams have an "Inbox" where anybody in the company can request/suggest an initiative. Then the team will pick the ones that can get done without disrupting their priorities and leave the rest up for discussion next time planning sessions come up. 📥
Everybody is in charge of their assigned tasks, making sure they get resolved promptly and collaborate when needed. 🤓
These two products coexist next to each other, and we have them integrated so that new or resolved tasks notify us via Slack. We also tried products like Trello, Asana, and Basecamp but our productivity is at its maximum with our current situation.
Bonus Points
All of the tools we're using to run Factorial
Product
Engineering
Sales
Marketing
Others
If you have any products you can't live without or have an opinion to add on our product list, let me know below!